Introduction to Persona Use Cases
Personas are imaginary people representing the core audience or customers of a company or organization. Personas were introduced into software development and marketing in the 1990s. Personas capture and describe key elements of customer segments so that decision makers could better understand their users or customers, not only by using numbers but also by referring to qualitative user attributes, such as key pain points and desires, needs and wants.
Our persona-generation team refers to persona creation as "Giving faces to data," as personas should always be based on real data about real customer behavior. Automatic persona generation has several advantages over manual persona creation.
The figure below shows an example of a data-driven persona whose attributes are inferred automatically from online analytics data.
While personas have been argued to have many benefits in the academic literature, our persona team is constantly facing the same questions from the client organizations of our system for automatic persona generation (APG). Namely, the end users of personas want to know how to use personas in practice. While our persona teams often explains that personas are like any other analytics system, meaning that persona use cases depend on the client organization's information needs (i.e., what they want to know about the customers and why), this answer is still a bit puzzling to them.
For that reason, we decided to write this blog post outlining some key use cases for personas. These use cases are meant as examples, as the full range of persona use cases is much wider than we can discuss here. We will first explore some generic persona use cases, and then proceed to specific persona use cases for different organizational units and departments.
Generic Use Cases of Personas
In general, there are three main purposes that personas serve.
(1) Customer Insights. This deals with getting to know one's core audience, users, or customers better. For example, the Automatic Persona Generation system enables an organization to understand its customers' topics of interest and preferred social media content. Who uses personas this way?  Everyone in the organization dealing with customer data.
(2) Creation Activities. Using persona information to create better products, content, marketing communication, or other outputs. Who uses personas this way?  Everyone in the organization dealing with customer data.
(3) Communication. Using personas for communication across departments. While it is difficult to discuss customers using a spreadsheet, it is much easier to communicate about a person. Thus, sharing the created persona profiles across divisions increases the chance for realization of persona benefits. Personas make data communicable and, ideally, keep team members focused on the customer needs. Who uses personas this way?  Everyone in the organization.
Specific Use Cases of Personas
In addition to shared use cases of personas, there are more specific persona use cases. For example, product managers can use the information in the persona profile to design a product that meets the needs or desires of core customers, and marketing can use personas to craft messages that resonate with a specifict target group. In the following, we are outlining some specific examples of persona use cases within various organizational units. More specifically, we allocate these use cases under four sections.
(1) Customer Insights and Reporting Using Personas
Customer Journey Mapping with Personas
Plot the stages and paths of the persona lifecycle, documenting each persona's unique state of mind, needs and concerns at each stage. Understand your website visitors' customer journey.
Persona Discovery
Document the individuals involved in the purchase process in a way that allows decision makers to empathize with them in a consistent way.
Brand Discovery with Personas
Uncover how your core customers feel about your product or service and how they rationalize their purchase decisions.
Reporting and Feedback Using Personas
Report and review data and insights to drive strategic decisions, as well as provide information to the organization as a whole.
(2) Tangible Creation Activities with Personas
Planning Product Offerings: With the help of personas, organizations can more easily build the features that suit their customers' needs. Consider the goals, desires, and limitations of core customers to guide feature, interface, and design choices.
Role Playing: Personas help product developers "get into character" and understand the circumstances of their users. They facilitate genuine understanding of the thoughts, feelings, and behaviors of core customers. Individuals have a natural tendency to relate to other humans, and it's important to tap into this psychological effect when making design and product development choices.
Content Creation: Content creators can leverage personas for delivery of content that will be most relevant and useful to their audience. When planning for content, we might ask "Would Christy understand this?" or "Would Christy be attracted by this?"  Personas help one determine what kind of content is needed to resonate with core customers, represented by personas, and in which tone or style to deliver the content. Naturally, customer analytics data can and should be used as a support for personas in order to verify the results.
(3) Persona-Based Experimentation
Channel and Offering Alignment: Align every piece of offerings and marketing activity to a persona and purchase stage, identifying new channels and needs where opportunities exist.
Prediction of Popularity: Predict how a given persona will react to content, marketing messages, or products. This is a particular advantage of data-driven personas that enable using the underlying topical interests of the persona to model the likely match between personas and a given content unit.
Experimentation and Optimization: Carry out well-thought experiments with personas to produce statistically valid business insights and apply the results to optimize performance. For example, you could run Facebook Ads campaigns targeting segments corresponding to the core personas and analyze whether the campaigns perform better than broader or other customer segments.
(4) Strategic Decision Making Using Personas
Strategic Marketing: When you understand where your core customers spend their time online, you are able to focus your marketing spend on these channels. For example, if the data shows that your core customers prefer YouTube over Facebook, you can increase your marketing spend in the former. Think how you might describe your product for this particular type of person. For example, would Bridget better understand your offering as a "social media service" or as an "enterprise customer management tool"? Depending on the answer, the communicative strategy would be different.
Sales Strategies: Targeted offerings can help organizations convert more potential customers to subscribers, followers and customers. You can also use personas to tailor lead generation strategies which is likely to improve your lead quality and performance. By approaching your messages from a human perspective, you can create sales and marketing communication that is tailored to your core customers and, therefore, is likely to perform better.
Executives: Key decision makers can keep personas in mind while making strategic decisions. In fact, a persona can become a "silent member in the boardroom," evoked to question the customer impact of the considered decisions.
More persona use cases can be found in related articles:
Examples of Persona Use Cases from the Automatic Persona Generation System
In the following, we will include some use case examples from the APG system that generates personas automatically from online analytics and social media data. The system is currently fully functional, and we are accepting a limited number of new clients with free of charge research licenses. See the end of this post for more details.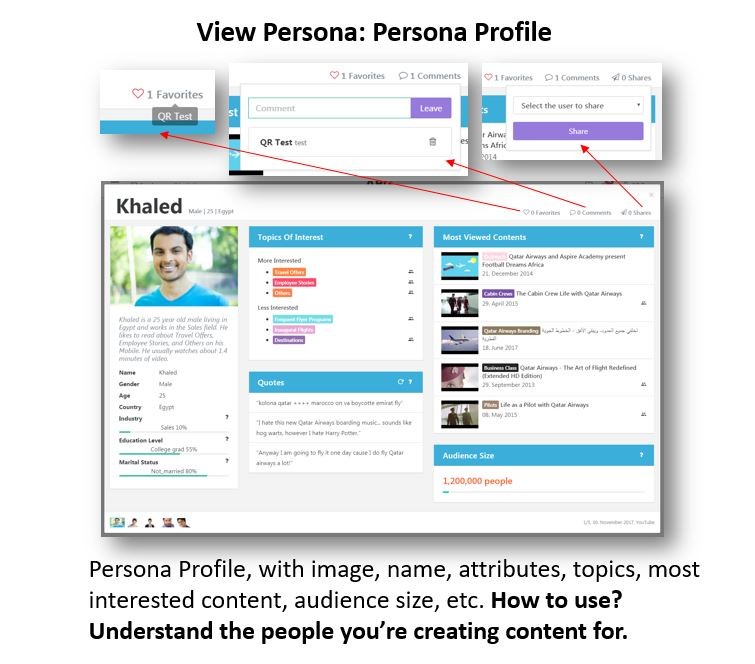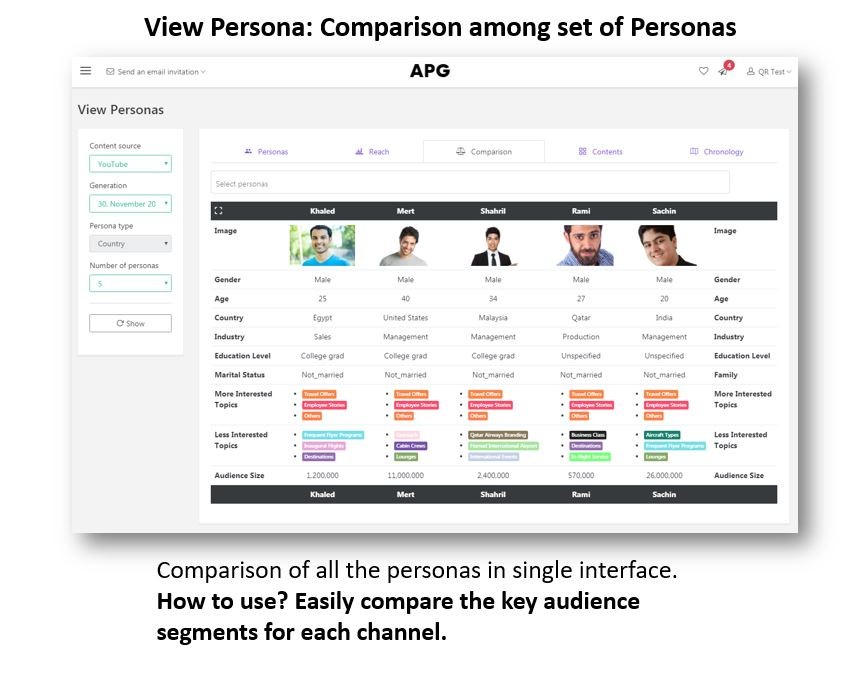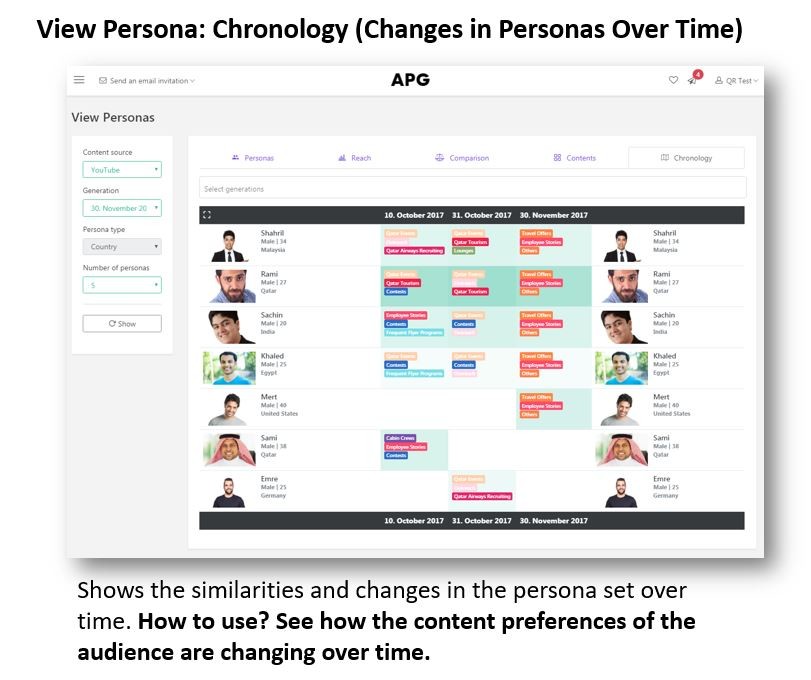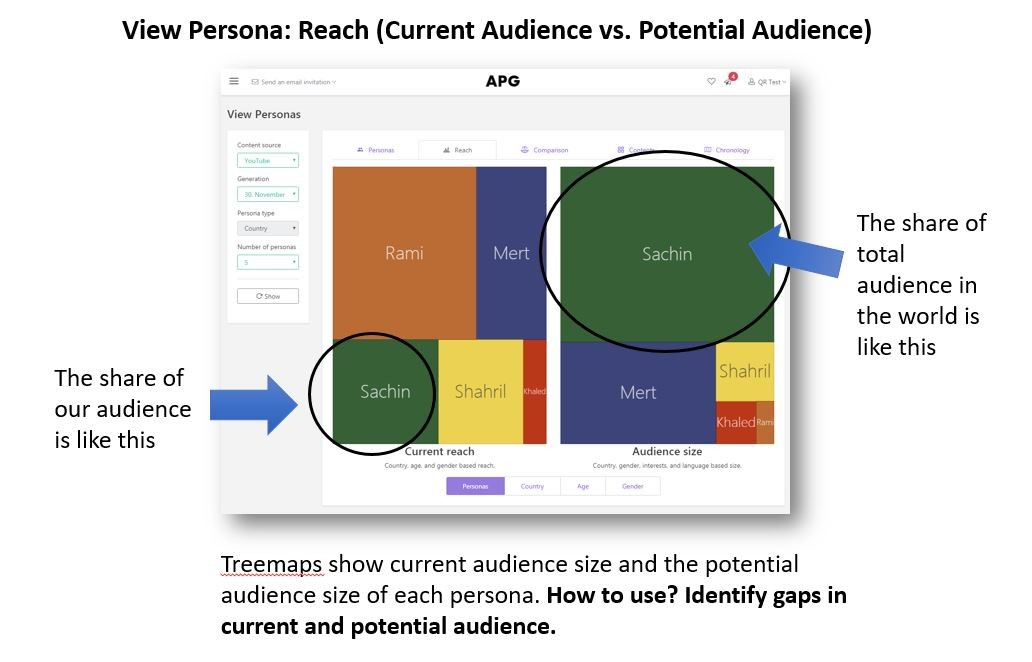 Conclusion of Persona Use Cases
Forrester Research (2010) reports a 20% productivity improvement with teams that use personas. Yet, figuring out how to use personas is not always easy and straight-forward. In the end, the exact use cases depend on the client's specific persona information needs. These needs can best be found by collaborating with persona creators to provide tailored personas that are useful specifically for a given organization in their practical decision making.
List of Questions for You
Through means of "co-creation of personas," clients and persona creators can figure out together how the personas could be useful for real usage scenarios. According to our experience, useful questions for defining the client's persona information needs include:
What are your company's objectives for content creation / marketing?
What kind of customer-related decisions you make?
What kind of customer information you need?
What analytics information are you currently using?
What kind of customer-related questions you don't currently get good answers to?
How would you use personas in your own work?
What information you find useful in the persona mockup?
What information is missing from the persona mockup?
Are you are interested in the possibilities of automatic persona generation for your organization? In that case, don't hesitate to contact the persona team! Professor Jim Jansen will gladly provide more information: bjansen@hbku.edu.qa.
Data-Driven Personas Are Not for Everyone
However, please note that in order for automatic persona generation to be beneficial for your organization, you need to have at least hundreds (preferably thousands) of content pieces published online with a wide audience viewing them. APG is great at summarizing complex audiences, but if you don't have enough data, persona generation is better done using manual persona creation methods.
This blog post was written by Dr. Joni Salminen and Professor Jim Jansen. The authors are working on a system for automatic persona generation at the Qatar Computing Research Institute, Hamad Bin Khalifa University.
Want more information? See …
Jansen, B. J., Salminen, J., Jung, S.G., and Guan, K. (2021). Data-Driven Personas. Synthesis Lectures on Human-Centered Informatics,1 Carroll, J. (Ed). Morgan-Claypool: San Rafael, CA., 4:1, i-317.
Jansen, B. J., Salminen, J., and Jung, S.G. (2020) Data-Driven Personas for Enhanced User Understanding: Combining Empathy with Rationality for Better Insights to Analytics. Data and Information Management. 4(1), 1-17.  https://content.sciendo.com/view/journals/dim/4/1/article-p1.xml
References
An, J., Kwak, H., Salminen, J., Jung, S.G., and Jansen, B. J.  (2018) Imaginary People Representing Real Numbers: Generating Personas from Online Social Media Data. ACM Transactions on the Web. 12, 4, Article 27..
An, J., Kwak, H., Salminen, J., Jung, S.G., and Jansen, B. J.  (2018) Customer segmentation using online platforms: isolating behavioral and demographic segments for persona creation via aggregated user data. Social Network Analysis and Mining. 8(1), 54.
Cooper, A. (1999). The Inmates Are Running the Asylum: Why High Tech Products Drive Us Crazy and How to Restore the Sanity (1 edition). Indianapolis, IN: Sams – Pearson Education.
Forrester Research. (2010). The ROI Of Personas.
Salminen, J.O., Şengün, S., Kwak, H., Jansen, B. J., An, J., Jung, S.G., Vieweg, S., and Harrell, F. (2017) Generating Cultural Personas From Social Data: A Perspective of Middle Eastern Users. The Fourth International Symposium on Social Networks Analysis, Management and Security (SNAMS-2017). Prague, Czech Republic, p. 120-125. 21-23 Aug.