APG (Automatic Persona Generation)
APG has been developed at the Qatar Computing Research Institute by a research team led by Dr. Jim Jansen. Other team members are Joni Salminen (research & marketing) and Soon-gyo Jung (software engineering). APG is based on more than three years of extensive research.
APG is a tool for automatically turning your user/customer data into personas. We call this "giving faces to data".
APG currently works with YouTube Analytics, Google Analytics, Facebook Ads, Facebook Insights, Instagram, and in-house CRM data. The system retrieves data from these sources and automatically generates user personas that represent central behavioral and demographic patterns. APG uses several data science algorithms for this purpose.
APG personas are:
created within minutes or hours instead of weeks or months
updated automatically every month
reflective of *both* behaviors and demographics, not either-or.
Sample personas:

Sample persona profile: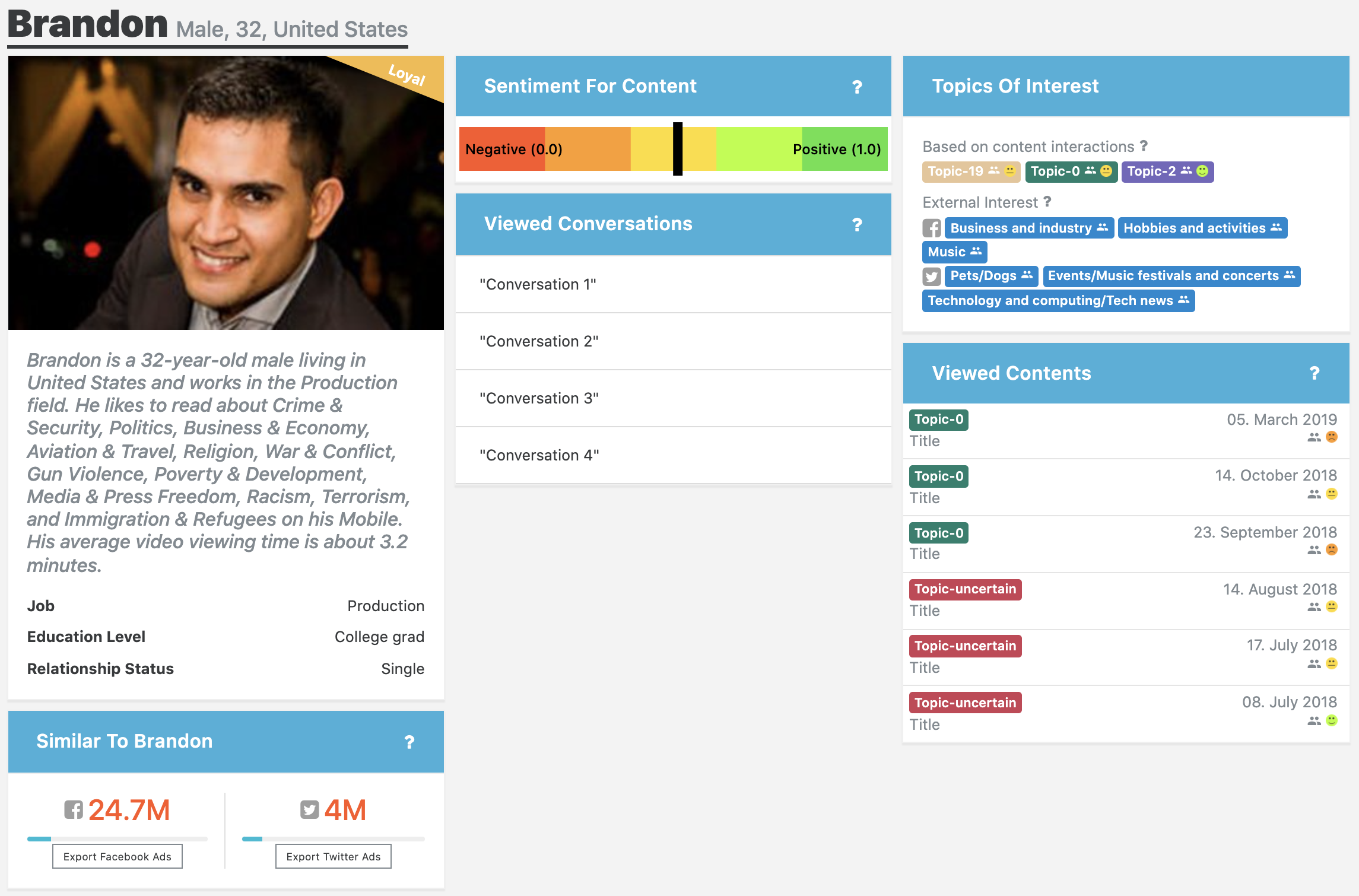 If you want to try apg, please do the following:
Send an email to Dr. Jim Jansen (

bjansen@hbku.edu.qa

) and cc Joni Salminen (

joni.salminen@uwasa.fi

) and Soon-gyo Jung (

sjung@hbku.edu.qa

)
In the email, please explain why do you want to use personas (i.e., what things you want to learn about your users/customers and towards what business goals?)
Also include links to your data sources (e.g., your YouTube Channel, Facebook page, or website), if available.
NOTE: There are a limited number of seats available for research collaboration. Typically, the collaboration requires that (a) you have sufficient amount of data to create meaningful data-driven personas (we will explain this in detail), and (b) you are willing to share this data for research purposes (we will, of course, not share any business-sensitive data with third parties. Everything is stored in a local, SSL-protected server and only you will have access to the personas. But we typically need to present data analyses in our research work, so we require some form of research angle to work with you).
If you are eligible for collaboration, we will reach out to you for the next steps!